You are looking at Guerlain's meteorites powder. I guess this is one of their most signature products, one for its distinctive package and for its awesome colours. The product is suppose to applied all over the face, for a glowing effect. The red gives a feeling of blushing, greens tones down the redness, purple attracts light and gold and white balls highlight and brighten! Sounds like an amazing product eh!?
I swear this product has been around longer than me, because I used to see bottles of beautiful cosmetics on my aunt's vanity table. The most intriguing one was the one with rainbow balls of pearl! Since I was a kid, I had been eluded by the packages of beauty products. This meteorites powder has to be one of my first encounters with cosmetics!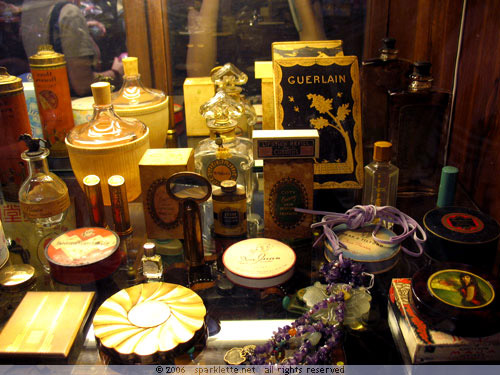 Museum of Shanghai Toys
Taken from
Sparklette.net
I like this kind of feel! Old school Shanghai women's vanity table, much like my aunt's!
I don't think I am a makeup/product junkie, but there is an army of bottles sitting in my bathroom. Sometimes it is simply difficult to resist such impeccable marketing! Beauty in a bottle! So I've been wanting to get my hands on this powder for years now, but never had the opportunity, or time, or the justification to buy another $60 product.
(By the way, this sells for $52 on
Strawberrynet.com
)
I think the closest thing I came to buying something similar was the Givenchy's Prismissime 9 colour face powder. It sells for $56 at strawberry.net.com
I bought it at airport duty free when I was bored and waiting for board. This is what happens when they have those fancy duty free stores luring you in with shiny cosmetics! A trap! But nonetheless, I love it! The package is convenient and cute! The powder smells nice, and makes me have that 1920's shanghai feel when I use it!
P.S. I will be posting a blog real soon about the 1920-1930 Chinese and Japanese antique advertising poster! I really love them! I loved everything about that era, the Western influences on traditional Chinese architecture, the glamorous outfits, the hair, the life!