Veggie chips! 365 Everyday Value™ Veggie Chips by Whole Foods.
I recently came into contact with these, and boy, are they yum. Baked, not fried, meaning I can eat the whole bag, right?

Combos Cheddar Cheese Cracker
I used to eat these when I was little! They don't sell them in Canada, except this one time I found it in a convenience store, but they no longer have it. They are available through
Amazon.com


Flan by Jell-O, or otherwise known as creme caramel.
You can make yumyum custard dessert in a matter of minutes in the convenience of your own home! I usually find these at Seattle's nicer Safeways, but they are usually sold out/out of stock. They can also be bought in bulk on
Amazon.com

Tzy-Lu Chocolate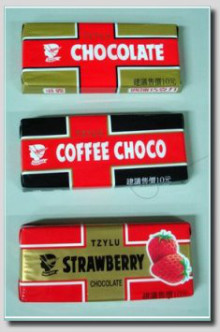 Comes in three flavours, strawberry, coffee, butterscotch chocolate. My favourite is the strawberry one. These can be found only in Asia. I haven't seen them around in Vancouver yet. Yna is bringing some back from Asialand!! Hopefully!
I am really hungry now. Bahhh.